Openmet People
Training evaluation
Evaluation of training is a process in which different aspects of the later training phase are measured.
Evaluation of satisfaction, impact and return on investment of the training process
This process aims to measure the impact that training has had within the company and on an individual level for professionals. Training evaluation is carried out based on evaluation models based on Kirkpatrick or Bersin methodologies.
The impact of the training given can be evaluated according to degrees of impact within the company:
Satisfaction of the participants. What do students think of the course?
Degree of learning. Have they learned what was foreseen?
Transfer to the job. Are students applying well what they learned in the course?
Results in business. How does training affect the business? ROI
For each phase, the necessary indicators and dashboards are designed and adapted to the needs of the organization.
Goals and results through formative evaluations
Know the impact of training on people, departments and the company
Obtain data on the quality of training (teaching staff, subject, usefulness …)
Obtain objective data to rationalize investment in training (ROI)
Monitoring of the entire training cycle, both individual and general
Useful tool for training decisions for team leaders
How we work on the evaluation of training
We design and adapt the questionnaires to analyze the satisfaction, knowledge and / or skills acquired
Identify points for improvement and risk areas
Open a direct communication channel between the employee and the company
We evaluate the various satisfaction indicators through online or paper surveys: training topics, teachers, facilities, acquired learning, methodology …
We evaluate the knowledge achieved during the training session / s
We evaluate the acquired transfer to the job
Through the Openmet Feedback Manager results platform, you can track the evaluations you carry out and obtain automated reports from the different sessions, teachers, departments …)
We make periodic presentations of the different training actions and their satisfaction and impact.
---
Blog
We talk about employee engagement, work environment, customer satisfaction, electronic surveys and much more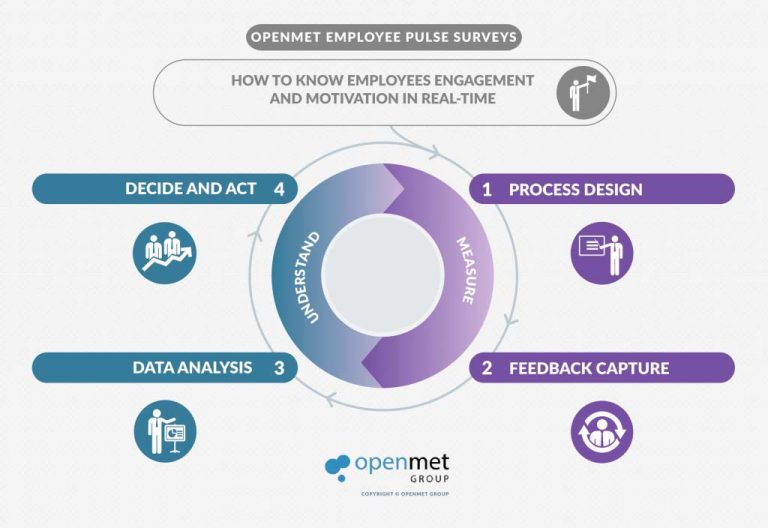 How often have you heard and read that "the most engaged employees have better attitudes on a day-to-day basis and are better able to adapt to change"? But, in spite…

How can we help?
Here at Openmet People we can help you to manage and diagnose a large proportion of the key information needed to ensure good performance by a company's human capital.
We can help you to maximise the success of your projects thanks to the combination of experience, know-how and software